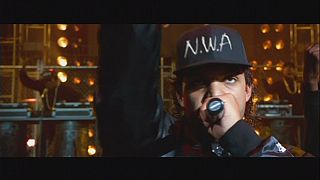 "Straight Outta Compton", about the rise to fame of seminal hip-hop group N.W.A. went in with a bullet at No. 1 at the U.S. box office and stays there for two-week earnings of over $110 million according to studio estimates .
Most of the original band members – including Dr. Dre, Ice Cube, MC Ren, DJ Yella and Eazy-E's widow were on board with the project.
Ice Cube produced the film along with fellow N.W.A. member Dr. Dre.
"It was like a time capsule for me. Just seeing the drum machines and seeing the turntables and the clubs. It was like, I wish I was back there in those times. I remember those times so vividly and they were shot so beautiful – and director Gary Gray paid so much attention to detail," says Ice Cube.
It is hard to underestimate the in-your-face importance of NWA, just one band in a first flowering of west coast rap, but whose signature "album": was the sound of its summer.
Their signature look oozed menace, too. Not the neo-Panther drilled defiance of Public Enemy; this was visibly not giving a damn, outlawed, gangstas. L.A., not N.Y.
Straight Outta Compton" features an impressive young cast, including Corey Hawkins as Dr. Dre and Jason Mitchell as the late Eazy-E. Ice Cube is played by his son, O'Shea Jackson Jr.
"We put a lot into 'Straight Outta Compton' – two years of auditioning, different coaches, going in and out of acting classes – and I've put so much into it that I couldn't do all of that just for one film. I want to have a long career in cinema and I'm prepared for the long haul," says O'Shea Jackson Jr.
The film glosses over some aspects of the rise of hip hop culture and its community, a fact commented on in the media by several who were there, but are not referenced in the film.
This was "incendiary music": for incendiary times mostly played by young men at the end of their ropes; with attitude, or not at all. It is a film rap fans have been waiting for.
Turkish fans will have to wait even longer; for some reason release there is not until next May.
Iceland 26 August 2015
Austria 27 August 2015
Australia 27 August 2015
Germany 27 August 2015
UK 28 August 2015
Ireland 28 August 2015
Netherlands 3 September 2015
Poland 4 September 2015
Sweden 11 September 2015
Belgium 16 September 2015
Czech Republic 17 September 2015
Italy 1 October 2015
Estonia 2 October 2015
Finland 2 October 2015
France 7 October 2015
Spain 13 November 2015
Turkey 3 May 2018