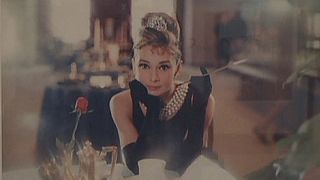 The National Portrait Gallery in London is paying tribute to Audrey Hepburn.
A collection of previously unseen and intimate family-owned photos are shedding new light on the film star and fashion icon.
To celebrate the Audrey Hepburn exhibition at @NPGLondon, we bring you 26 top Audrey snaps: http://t.co/l7QJlViqbcpic.twitter.com/zrECKQh5WE

— Tatler (@TatlerUK) July 6, 2015
Helen Trompeteler is the exhibition co-curator: "Well in this exhibition, we try to find a balance between showing the definitive portraits that are famous and well-loved, as well as finding rarer images that are lesser known to the public. A lot of the very early photographs from her childhood, dancing in Arnhem, they're lesser known so it's really a chance to show more private, more personal side to Audrey Hepburn in this exhibition."
How to get the #AudreyHepburn look: http://t.co/kWGX7UiZWDpic.twitter.com/aZPNlR5Zu2

— VOGUE.CO.UK (@BritishVogue) July 9, 2015
Throughout the 50s and 60s, Hepburn's career flourished with a string of successful roles in iconic films such as 'Roman Holiday' and 'Breakfast at Tiffany's'.
Her son Luca Dotti says his mother was never as confident as she appeared: "She always thought that she was very wrong, that she was chosen by mistake and people would come up and realise the mistake and it would be over and they would send her home. She was very different from all the stars at that time. She didn't think she was a real actress. She didn't think she was a real singer, dancer, a real entertainer."
'Audrey Hepburn: Portraits of an Icon' runs until 18 October 2015 at the National Portrait Gallery in London.