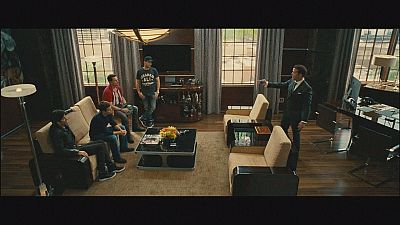 Cinema now appears to be taking the lead from TV with the release of "Entourage", four years after the conclusion of the series of the same name on HBO.
The film uses the same lead actors as the series, both of which are loosely based on the early career of Mark Wahlberg as he began to make his way as an up-and-coming star in the Hollywood firmament.
"I think it starts with Mark Wahlberg and his entourage and he's a part of that culture in a very authentic way. He's not trying to be something he's not. He loves hanging out with a group of guys and he's always been very loyal to them and there's an E and a Drama and an Ari in his life. All of them exist and so they're very specific, authentic prototypes," says Jeremy Piven, who plays super-agent turned studio boss Ari Gold.
The film explores the behind-the-scenes shenanigans of the world of movie-making, especially the difficulties of raising finance and the ins and outs of male friendships and real-life dilemmas that run through the dream factory.
"The themes of friendship are universal and really don't change, but Hollywood, the players, where the money moves have obviously shifted and these co-financiers from Texas to New Orleans, to hedge fund guys from New York, it's shifted a lot of stuff," says Director Doug Ellin.
The film is rolling out across most of Europe this month.