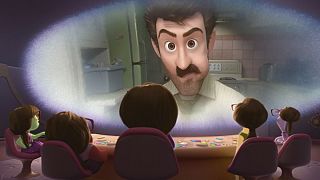 Inside out is the latest release from Disney-Pixar, and was shown out of competition at Cannes this year.
It is about a girl called Riley, whose life is turned upside down when her father starts a new job in San Francisco. Riley copes by taking advice from imaginary characters embodying emotions including joy, anger, fear and sadness.
 
John Lasseter, the Chief Creative at Pixar said: "It was really exciting to make this film. It was a long journey. We did a tremendous amount of research to get the details right and understand what science and psychologists and everybody knows about emotions, memories and the way the mind works."
Pete Docter, the film's director said: "My daughter was about nine when she did the voice of Ellie in 'Up', and then she turned ten, and eleven, and at the beginning of this film I saw her looking a lot less energetic and more quiet and reserved and I thought, "What's going on in her head?" And you know that's what started us working on this film, and I think all the films we do, whether they are about monsters or fish or cars, we want to project something of our own lives and put them on screen so that the audience recognises their own experience."
The film has been so warmly reviewed by critics that some people have been wondering why it wasn't entered into the competition at Cannes. Could it be that opening the film at Cannes, out of competition was a good way of gaining international attention without risking snubs from the jury?
Release Dates
France 17 June 2015
Australia 18 June 2015
Hungary 18 June 2015
Portugal 18 June 2015
Ukraine 18 June 2015
Bulgaria 19 June 2015
Canada 19 June 2015
Cyprus 19 June 2015
Romania 19 June 2015
Turkey 19 June 2015
USA 19 June 2015
Belgium 24 June 2015
New Zealand 25 June 2015
Poland 1 July 2015
Netherlands 22 July 2015
UK 24 July 2015
Ireland 24 July 2015
Spain 14 August 2015
Norway 21 August 2015
Denmark 27 August 2015
Sweden 28 August 2015
Greece 3 September 2015
Italy 16 September 2015
Austria 1 October 2015
Germany 1 October 2015