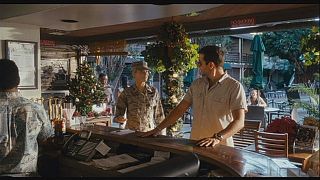 Aloha, set in Hawaii, starring Emma Stone and Bradley Cooper, is a military rom-com. The two A-listers said that making the film really was as fun as it seemed. They said they loved making the movie, and in particular loved the script, written by Cameron Crowe, who also directed the movie.
"What one loves about working with Cameron is the fact that he writes dialogue that is so captivating," said Bradley Cooper. "It's so tantalizing to your mouth. I mean, it's just fun to say the words in the melody with which he wrote them."
Bradley Cooper plays celebrated military contractor Brian Gilcrest who returns to the US Space programme in Honolulu, Hawaii, and reconnects with an old flame, Rachel McAdams, but unexpectedly falls for Air Force watchdog, Captain Allison Ng, played by Emma Stone.
Aloha also stars Bill Murray and Alec Baldwin.
Release dates:
Russia 28 May 2015
Canada 29 May 2015
USA 29 May 2015
Brazil 18 June 2015
Belgium 26 August 2015
Netherlands 27 August 2015
Austria 28 August 2015
France 2 September 2015
Germany 3 September 2015
UK 4 September 2015
Turkey 4 September 2015
Portugal 10 September 2015
Greece 15 October 2015
Italy 15 October 2015