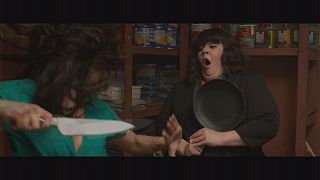 In the new comedy 'Spy', Melissa McCarthy plays CIA analyst Susan who nominates herself to go undercover to expose an arms dealer.
At the movie's European premiere in London's Leicester Square, the film's director who also wrote the screenplay, Paul Feig, talked about how women deserve better parts in Hollywood movies.
"(We need) more movies starring women in good roles and not ridiculous roles and giving them powerful stories other than they're trying to find a man. Look, those stories are great too, but, you know, I love movies, stories about professionals and women who love what they do and who are strong and not apologetic for what they do, and so we just need more of that. We need to employ more of the funny women and the talented women that are out there," he said.
While she may be an unlikely action heroine, Oscar-nominated comic actress Melissa McCarthy said she enjoyed performing the stunts despite the many bruises: "It was great, I have a lot of bruises, I pulled an incredible amount of muscles but weirdly I loved it, like I would sign up for another one in a minute. I loved all the action, I loved the challenge of how hard it is, hard to do."
British actor Jude Law, who plays her spy partner, Bradley Fine, said being funny is not as easy as it seems, especially when working with experts like McCarthy, Australian actress Rose Byrne and British actress Miranda Hart:
"It was great fun. It's tricky, it's a science, it's a process, you know. I've improvised and worked off script several times before but mining for comedy lines or laughs is very different. And watching people like Rose and Miranda and obviously Melissa, who are masters at it, was a learning curve and sometimes slightly overwhelming," said Law.
The film has opened to critical acclaim with one reviewer praising its high concept plot and killer supporting cast and another hailing this deliriously entertaining action-comedy.
'Spy' starring comedy queen Melissa McCarthy is out now.