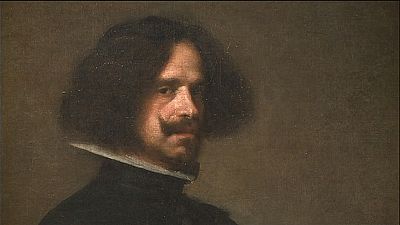 In what it does best, Paris' Grand Palais is showcasing one of the most comprehensive displays of works by Spanish artist Diego Velázquez.
Appointed official painter to King Felipe the IV in 1623, the young Velázquez was introduced to the inner circle of Spain's royal family. Breaking the rigid conventions of 17th-century portraiture, he fashioned a new image of the elite at the time.
"Velázquez' place in history is as the official painter of the most powerful man of the start of the 17th century. His place in the history of art is as "the painter of all painters" as Manet called him, the one who regenerated Spanish painting tradition and especially portrait painting," says the exhibition's curator, Guillaume Kientz. "He broke the tradition of sensible, cold, boring royal portraits and put life into them, put reality into them, brought them into the present. That magic in his paintings comes from the fact that Velázquez succeeded in breathing air into his paintings, it's as if there was air circulating around his models."
Influenced by the works of Caravaggio and other classical Italian artists, he took art beyond its limits at the time, transmitting emotions and feelings to his subjects in a way no one had done before him. An inspiration to artists ever since, Velázquez continues to fascinate to this day.
'Velázquez' runs at the Grand Palais in Paris until mid-July.