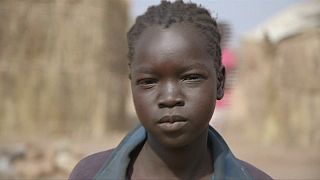 Children will always be children and even war will not kill their sense of creativity and play.
US documentary maker Andrew Berends spent several months filming in Sudan's remote Nuba Mountains, where a forgotten war has left hundreds of thousands of people displaced.
Much of his film centers on a young girl named Madina, whose hopes and wishes mirror those of most girls in the refugee camp where she lives.
"She's sad about not getting an education. She's sad about having seen fighting and people get killed at eleven years old. And she's sad about her country, genuinely. And you know, she says, 'My dream is to get an education so I can go back and support my country.' It's such a beautiful message," says Berends.
The documentary features unique footage and gripping testimonials which Berends managed to film in areas few people have managed to enter and from where little information flows.
It captures the threat to ordinary civilians trapped in the region, the dangers faced by those on the frontlines and the humanitarian crisis affecting those who fled to escape the ongoing violence.
"My goal with the film is to carry the message: this is happening, they're bombing their children, they're starving their children. That's the message that needs to get out, so that's my number one goal. This is happening in the Nuba mountains in Sudan, and what to do about it? That's a big question."
Berends fifth documentary film, 'Madina's Dream' has been screened to critical acclaim at recent film festivals in the US.
His previous work includes films like 'The Blood of My Brother', which along with a handful of post 9/11 documentaries by US filmmakers illustrate an attempt to show conflict from the point of view of the local population.