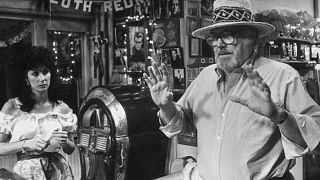 One of world cinema's greats, the late American director Robert Altman, gets an overdue documentary from filmmaker Ron Mann, which offers an in-depth look at Altman's life and career.
I see Bob as indestructible. Altmanesque for me is that. You know, his films are not ephemeral
Altman had the reputation for being "anti-Hollywood" and non-conformist in both his themes and directing style. His international career took of with Korean war comedy M.A.S.H. which won the Palme d'Or at the 1970 Cannes Film Festival and was nominated for several Oscars.
"I had a great affection for Bob's films growing up in the '70s, This was around the time of the 'new' Hollywood, so filmmakers like Coppola, and George Lucas, Martin Scorsese, but Bob was older at the time, and they were freer – they kind of liberated film," says Mann.
Altman famously used custom-made mini-microphones, years ahead of their time, on all his actors, recording everything improvised and scripted, and mixing it into an intoxicating cocktail. For 50 years third wife Kathryn Reed was by his side.
"Well, I went down and I went up. I learned to adjust to the roller coaster. It was always hard in the down times, but he never stayed down long – with bad reviews, or cancelled projects, or all the things that filmmakers deal with. If he was disappointed, he pulled himself right back up. It was quite remarkable," she says.
"Altmanesque" has even become a term describing any multi-layered, dark cinematic style. Today Paul Thomas Anderson, for example, owes a lot to Altman.
He also defied boundaries, making comedies, westerns, musicals, dramas, and detective stories. Actors would do almost anything to get a role in an Altman movie.
Mann explores different definitions of the term, but to him "Altmanesque" describes Altman's groundbreaking approach to movies.
"I see Bob as indestructible. Altmanesque for me is that. You know, his films are not ephemeral."
Far from it. In fact, some of his films are among the best of their kind, and stand repeated viewing. If anything, they improve with age.
A selected filmography for Altman beginners:
M*A*S*H (1970)
Brewster McCloud (same year, and years before Alan Parker's 'Birdy')
McCabe & Mrs. Miller (1971) One of the all-time great westerns
The Long Goodbye (1973) His take on Philip Marlowe
Nashville (1975) His dissection of country music
3 Women (1977) Personal, intimate, and devastating
A Wedding (1978) Three hours spent in the company of two disfunctional families who crash into each other at the ceremony
Popeye (1980) Altman gives Robin Williams his first screen role as the cartoon hero
Streamers (1983) One of the many plays he filmed in the 1980s
The Player (1992) His great comeback movie, with an all-star cast. One of the best films about Hollywood. Ever.
Short Cuts (1993) His adaptation of Raymond Carver's short stories.
Gosford Park (2001) Altman's take on the English country house murder mystery genre
A Prairie Home Companion (2006) His last film in the year of his death, a filmed recreation of a long-running radio show, and featuring a proper adult performance from Lyndsay Lohan, of all people.