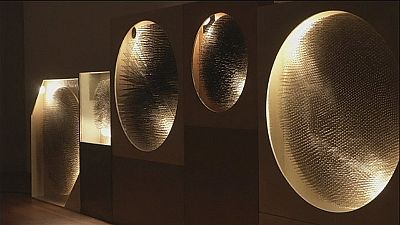 An exhibition has begun in Berlin in honour of
ZERO, the German avant-garde art movement.
ZERO focused on light and dynamism and sought to give art new optimism in the gloomy post World War II years. Its influence on contemporary art is all too apparent.
A vast 3,000 square metre show traces the ZERO movement from its infancy in 1957 over the following decade as it spread across the world.
Daniel Birnbaum, ZERO foundation spokeman, and director of Stockholm's Modern Museum said: "When they started they wanted really to start from zero. This was a time after World War II when German culture was kind of bankrupt, when one didn't know where to start and how to do art at all, and they wanted to start from scratch, that was one of the moments."
200 works from leading ZERO artists like Heinz Mack, Otto Piene and Guenther Uecker are being shown at the Martin-Gropius-Bau in the German capital.
The trio started holding events in their Dusseldorf studio in the late 1950s where light and sound installations where shown away from the constraints of a museum or exhibition space. The movement quickly spread throughout Europe and the US.
Artists around the world, such as Yves Klein in France and Herman de Vries in the Netherlands started holding their own events and experimenting with light in their paintings and pictures.
De Vries says he is still today very much influenced by its ideas.
"Zero is freedom, it's openness, it is a point that you can always return to. ZERO is the gate, the gate is open, the gate is here, the gate is everywhere, everywhere is nowhere, nowhere is this," said de Vries.
ZERO disappeared in 1967 but in more recent years, there has been a resurgence of interest in Zero artists with works from European painters of the period achieving record sums at auction.
The Berlin retrospective runs until June 8th
and can be seen from July onwards at Amsterdam's Stedelijk Museum.