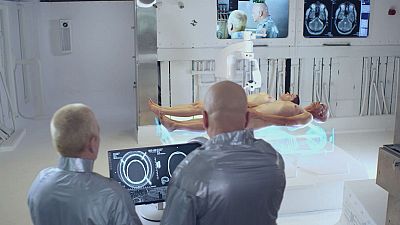 Science fiction is not the first thing that comes to mind when you think of Cuba.
'Omega 3' is the first ever sci-fi movie made in Cuba and had its European premiere at the fantasy, sci-fi, horror film festival Fantasporto in Portugal.
Euronews spoke to the movie's Cuban director Eduardo del Llano, who also wrote the screenplay.
"I've always liked to challenge clichés. If a country is experiencing a specific situation, you have to talk about it. The human condition and the question of fundamentalism, which is what the film is about, are universal themes, which we all suffer from," he said.
The film is set in a post-apocalyptic future dominated by vegetarians, where eating meat is not the done thing. Several factions of vegetarians, including "macs" for macrobiotics and "vegs" for vegetable eaters, are involved in a world war to impose their diet on the rest of humanity. The two lead characters are soldiers from rival factions, who have been made prisoners by a common enemy.
"The auditions were the toughest part. When Eduardo showed me that scene, with a war between Vegs and Macs, I thought it was a war between beer brands or something… It was only after the audition that we understood what it was about, it was quite funny," said Spanish actress Dailenys Fuentes, who plays the female lead.
"Diet is just an excuse for Eduardo to talk about human suffering, which is much more complex than eating eggs or meat… it mainly has to do with what Cubans have been going through for years," said the movie's other lead actor, Carlos Gonzalvo, best known in Cuba for his role in the popular comedy show 'Deja que yo te cuente'.
The movie mixes live action and animation and features a soundtrack by famous Argentinian composer Osvaldo Montes.
After its European debut, its producers are now taking 'Omega 3' on a tour of the film festival circuit.