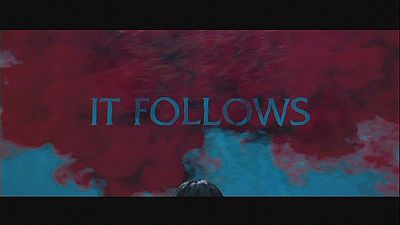 For 19-year-old Jay, life should be about school, boys and weekends out at the lake.
But after a seemingly innocent sexual encounter, she finds herself plagued by the feeling that someone, or something, is following her.
'It Follows' is US writer-director David Robert Mitchell's second feature following his poignant coming-of-age drama 'The Myth Of The American Sleepover'.
Maika Monroe plays the lead character.
"The idea came from David (Robert Mitchell)'s nightmares and it was… as a kid he had this consistent dream about this thing following him. Sometimes it would be people that he recognized or unknowns, so I think in the movie there are some characters, her father comes in one and then her grandmother in another. I think that is when it is the scariest, when it is someone that you know following you," says Monroe.
The film premiered last year at Cannes' Critics' Week to mostly positive reviews.
Daniel Zovatto, who plays Jay's neighbour Greg, said he was delighted to see audiences leap out of their seats during the screening.
"The first time we watched it was in Cannes in France and I remember we were sitting down and we first saw people, like, jump up. And that was like, oh God, people are actually getting terrified. But I think for us, because you work in a movie and you kind of know what is happening when you were filming and so, at least for me, I didn't really get scared watching it, but I could see people getting scared watching it, which was super cool," say Zovatto and Monroe.
While a majority of critics thoroughly enjoyed the movie, with one five-star reviewer describing it as a modern horror classic, some deplored its teen-shrieks platitude.
All agree however that as a horror flick, 'It Follows' will send suitably glacial chills down your spine. The film is on global release from now.