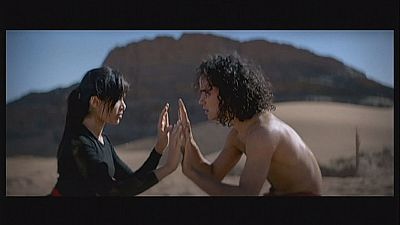 The 30th Santa Barbara International Film Festival kicked off with the North American premiere of 'Desert Dancer', based on the life of Iranian dancer Afshin Ghaffarian.
Set in Iran, the film follows the story of the self-taught dancer, who risked his life to live his dream despite a nationwide ban on dancing. In the volatile climate of the 2009 presidential election, Afshin and a group of friends decide to form an underground dance company.
'Desert Dancer' is English film director Richard Raymond's first feature film:
"I get so many people writing me letters saying, 'What you shot, I saw from my window.' 'What you said happened to Afshin happened to my friend, too.' But one of the most surprising things is that I also get letters and e-mails from people – or see it on Twitter – people that are not living in Iran, that have been oppressed in different ways, whether it's their family, whether it's a financial situation, and they connect with the film as well," said Raymond at the Santa Barbara premiere.
'Desert Dancer' co-stars Indian actress Freida Pinto as Afshin's friend Elaheh.
The young actress, who shot to global fame in the 2009 Oscar-winning movie 'Slumdog Millionaire', followed an intensive training schedule for the role that included eight hours of dance rehearsals every day.
But, she says, the toughest training was in the mind: "Because I think when you have mirrors in a dance studio when you're training, or when someone's watching you, and you know you're not a dancer, there's a part of you that goes, 'Oh my god they're judging me, and oh my god I look so awful. And I have two left feet and dangly arms,' and I feel the one year of preparation threw me out of that mindset, it pushed me to the limit, where I stopped judging myself and I said, 'I don't care'," she said.
Afshin Ghaffarian, who lives in Paris nowadays, has said that the movie is a dramatised, fictional tale inspired by his life, and that reality in Iran is much more complex than what is portrayed in the film.
Already released in some European countries last year, 'Desert Dancer' is out in the United States this April.