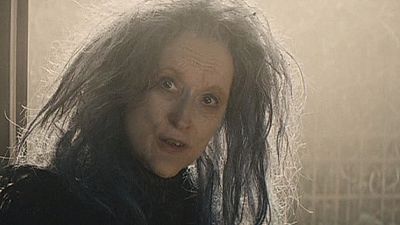 'Into The Woods' is heading for the big screen. Director Rob Marshall is bringing Stephen Sondheim's much-loved stage production to the cinema.
The material is so rich. It's so layered, it's so actor-driven and it has emotion.
It's not the first time Marshall has adapted a Broadway musical for film – he also directed 'Chicago' (2002) and 'Nine' (2009).
'==Into The Woods==' features an all-star cast, including Meryl Streep, Johnny Depp, Anna Kendrick and British favourites James Corden and Emily Blunt.
Marshall was particularly pleased with the casting of the film.
"It's a dream cast for me. I mean, I was very lucky. The first person cast was Meryl Streep. I asked her to do this and she said yes, which is of course one of the greatest moments that happens in a director's life: when your dream actor says they're interested in doing it," he enthused.
"But, I think she was incredibly drawn to the material. It's a real luxury for actors working on a Sondheim musical, because the material is so rich. It's so layered, it's so actor-driven and it has emotion. It's not just a song."
Though based on children's stories, 'Into The Woods' is dark in places.
The film introduces the new tale of a baker and his wife, played by Corden and Blunt. They long to start a family, but cannot because of a witch's curse.
Their quest to overturn the curse sees them delve into classic fairy tales, such as 'Jack and the Beanstalk', Little Red Riding Hood', 'Rapunzel' and 'Cinderella'.
The film is not a musical in the traditional sense of the word, as James Corden explained.
"The greatest thing about Stephen Sondheim – in all of his work but particularly in this piece, I think, is that there are no songs for songs' sake. There is never a moment where you feel like it, as a piece and a story, has stopped still and gone, 'And song!' 'And carry on!' – which I think lots of musicals can be guilty of. I don't think that's necessarily a bad thing, if you love musicals. And I do and I enjoy that, but the greatest thing about this is that the songs often very naturally just stem from the dialogue and they're all driving the plot and the story forward."
'Into the Woods' opened in UK cinemas on January 9, 2015. It has received Academy Award nominations for Best Supporting Actress, Best Production Design and Best Costume Design.