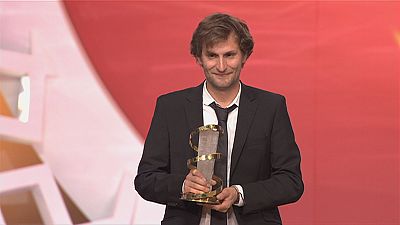 As a way to encourage young filmmakers and ensure the future of Moroccan film-making, the Marrakech festival also invites students from across the country to submit their short films. Ten are selected to enter the Cinécoles competition.
This year's prize went to Ahmed Messoudi's 'Layla'. It tells is the story of Brahim, who, for the past 38 years, has been sharing his life with his wife Layla. But lately, she's been staying in her room and refusing to take her medication. A worried Brahim calls an ambulance.
"For me, it's really a love story, a love story about an old couple, and I'm filming the last days of this love story. I think it is a question about love in general because these days love isn't the same as it used to be. I think our generation is used to throwing away anything that is broken, their generation is a generation that tries to fix things that are broken. So considering that, it is an interesting thing to explore – love in the ancient times, in the old times," Ahmed Messoudi told euronews correspondent Chris Cummins.
Among the contenders for the Cinécoles prize was 'Dalto', a 15-minute short by Essam Doukhou about Adam, a lonely and creative young man, who is hoping to enter a graphic design school. But to his dismay, he finds out during the admissions interview that he is colour-blind.
"I was able to make my first film thanks to the backing of my faculty, my university and with my own money. I'm here in Marrakech and it's a wonderful opportunity for me to be part of this festival," said the young film-maker.
And finally 'Shoes' by Meryem Benheddi was also in the running. It tells the story of two children raised by their older brother after their parents' death. Poverty and a bad luck mean they have to share the same pair of shoes to go to school.
The winner is handed prize money to help make a second short film to be screened at a future edition of the Marrakesh Internatinoal Film Festival.