Economic collapse in various EU countries has damaged the perception of the European entrepreneurial spirit over recent years.
Economic collapse in various EU countries has damaged the perception of the European entrepreneurial spirit over recent years. Those people who were born between 1981 and 1995 have often found themselves entering the labour market with no real opportunities to succeed. However, now that the economic curves are heading back in the right direction, we seldom reflect on what has happened to that unemployed generation, the so-called Millennials.
Europe has around the same number of start-ups, hubs and venture centres per capita as the United States, according to Spanish economist and innovation specialist Eduardo Salido in Telefónica's Campus Party 2013 Report. But one interesting figure is that 80% of them were created after 2007. While this does not necessarily mean that the percentage of companies that overcome the 'seed' and early-stage investment rounds – initial steps in venture capital investing – matches American levels, it serves as a reminder of the value of the young European entrepreneur to the European economy.
If we also take into account the transnational value of the European projects with a focus on reactivating the economy, what stands out is the high participation of young professionals from countries where the 2008 economical crisis had a bigger impact. According to the latest statistics of the Erasmus for Young Entrepreneurs Programme, a European Commission Initiative to reach the goals set at the Europe 2020 Growth and Jobs Strategy, Italy has the highest number of young entrepreneurs taking part in this exchange programme, followed by Spain and Romania. The project finances a one- to six-month stay in different countries of the European Union, allowing new entrepreneurs to plug into the daily working life of a so-called 'host entrepreneur.'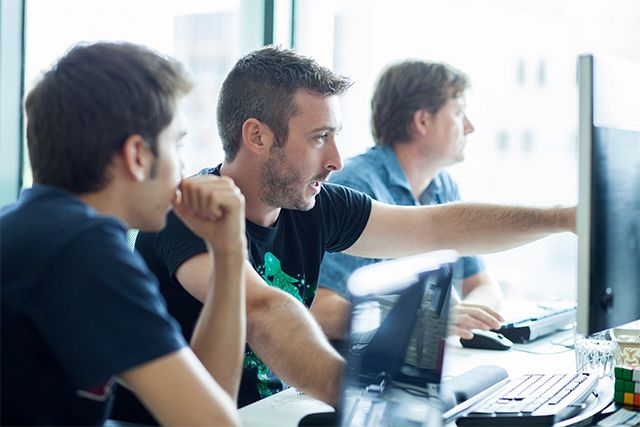 ep!c>lab team members during one of their work sessions. Source: ep!c>lab
Silvia Sarria, co-founder of Innogate to Europe, one of the Spanish platforms through which Spain's entrepreneurs can benefit from the programme, tells us that more than half of the entrepreneurs with whom they work contact them while starting up their business. "Private investors fund a very small percentage of new companies in comparison to the total number of already functioning businesses. Also, public funding is normally restricted to certain requirements that a recently-started business cannot normally meet. That is why we make use of what we call 'multiplier agents', meaning universities, hubs and venture centres, to try and 'catch' the entrepreneurs when they are still going through early stages of their company, so they can benefit from going abroad and experiencing different ways of launching a company", she says.
Alfonso Peletier, founder and CEO at ep!c>labs, a Spanish start-up business that offers innovative media software and digital transformation support to start-ups, explains that most of the new companies that they work with consist of around 90% Millennials. An example of this is Relendo, an end-to end online rental platform or Kibugreen, a company working to launch 'KIVI', a 'smart flower pot' that will allow you to take care of your plants remotely through your phone. "The Boss-Employee relationship is no longer the same. It has transformed almost into a peer-to-peer relationship, in which the employee has a big say in the business. However, European private investors still have doubts about making low risk bets and public funding is subject to an infinite list of bureaucratic work", says Borja Uría, CEO and CTO at Kibugreen.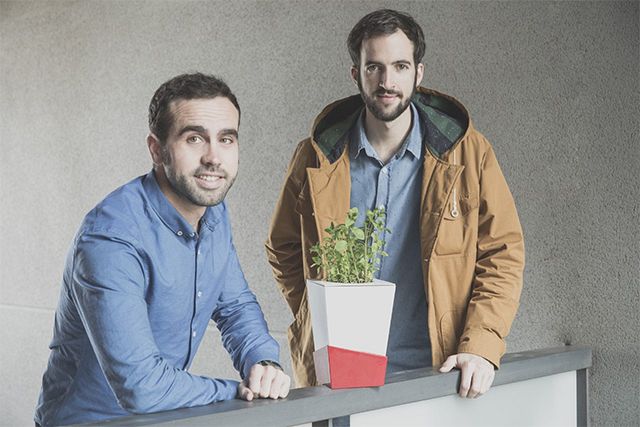 Román González (left) and Borja Uría de Aroca (right), founders of Kibugreen. Source: Kibugreen
Millenials start on average almost four times more businesses and have a turnover of more than 43% higher than the baby boomer generation, according to the 2016 BNP Paribas Global Entrepreneur Report. According to the same study, whose sample was made up of 47% European entrepreneurs compared to 14% of Americans, women see themselves empowered by the new labour market and have more success than men when it comes to starting businesses in sectors such as trade and professional services, two of the top wealth creation industries.
It now seems almost fashionable to insist that our youngsters are numb, passive and unemployed but the reality is that the only data normally revealed in the media is that the USA, China and Germany are the most attractive countries for entrepreneurs. As long as that continues to be the case, the European investment culture will remain stagnant. It will still be easier to accuse Europeans of being too shy to start businesses and to champion the American entrepreneurial environment than to bet on innovative European start-up projects.
Article contributed by Patricia Charro
You might also like