Thales makes concessions to soothe EU's Gemalto deal worries
Comments
By Reuters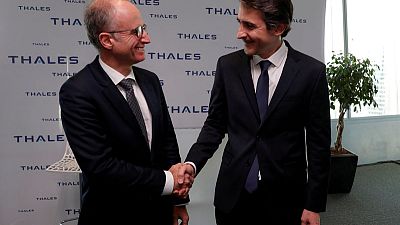 By Sudip Kar-Gupta and Foo Yun Chee
PARIS/BRUSSELS (Reuters) – Thales <TCFP.PA> has offered concessions to address European Union antitrust concerns over the French aerospace and defence firm's 4.8-billion-euro ($5.6 billion) bid for chipmaker Gemalto <GTO.AS>.
In July, the European Commission began a full-scale investigation into the deal, which Thales hopes will make it a top player in digital security, saying that it could push up prices and reduce choices for customers.
Thales, whose largest shareholder is the French state, said it had put concessions to the EU competition enforcer, after earlier disclosing talks with antitrust agencies.
"We have offered a remedy proposal to the European Commission on GP HSM (general purpose hardware security modules), which it will now test in the market. The next steps will depend on the outcome of this market test," Thales said.
GP HSMs generate keys and encrypt and decrypt data. Companies are targeting growing demand for security services such as data encryption and biometric passports.
The Commission, which is scheduled to decide on the deal by Jan. 8, declined to comment. Franco-Dutch Gemalto's second-biggest shareholder is state-owned bank Bpifrance.
(Editing by Alexander Smith)