Danube: Low levels costing Port more than €300,000
Comments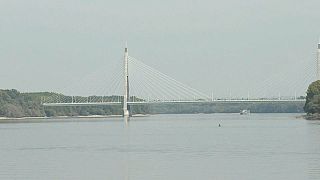 Low water levels on the Danube in Budapest continues which is now affecting the boat activity. Traffic is around 50% less than when there are normal water levels. General transport is affected the most but also international tourist ships are on hold.
Now hundreds of thousands of tourists have to travel around the Hungarian capital by bus.
The current level is 62 centimeters and experts now expect it to go as low as 50 in Budapest.
But small sightseeing boats and commuter vessels can use piers but larger boats are unable to use the river.
Gabor Spányik, CEO of Mahart Passnave the local port company says, "It's still possible for sightseeing boats and commuter boats to use the piers in Budapest."
The lack of water is costing the local port and shipping company more than €300,000. It's because of the lack of international tourist ships and unused tourist boats plus the extra supply for ships stuck in local ports.
Daniel Bozsik, Euronews says, "The low water level of the Danube keeps some ships at the pier for days. The port company's duty to serve all the passengers and crew with water and food for those days".