Investment, growth and Brexit. Europe's challenges for 2018
Comments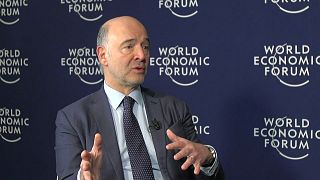 Euronews has spent the week in Davos and positive feelings for 2018 seem to be everywhere. Our reporter Sasha Vakulina caught up with the European Commissioner for Economic and Financial Affairs, Taxation and Customs, Pierre Moscovici about the European economy and any challenges we should be looking out for.
The international monetary fund released the outlook on Monday. It's very positive in terms of the current growth and the outlook for the future. What's the situation in Europe and what's the outlook for growth?
_I'm going to deliver our own forecast in two weeks from now, but I've no reason to believe that we'll be far away from the IMF. That means that the European economy is getting much better, that we have strong growth. We already had strong growth in 2017, the best year in the last 10 years. And each quarter was better than the previous one. We'll also forecast good years for 2018 and 2019. If I add to that that our public finances are now sound. I wouldn't say totally in order, but sound. We will probably have the two last countries exiting the excessive deficit procedure, which are Spain and France. The average deficit in the Eurozone is 0.9%, so we are a long way away from the famous 3%. We are creating hundreds of thousands of jobs in the EU and unemployment rate is also decreasing. It's still too high as the decrease is too slow, but the confidence of the economic actor is much better than, not only in the last 10 years, but probably the last 15 – 20 years.
So I'm not saying Europe is back, because Europe has always been a very strong actor in the world economy, Europe is a solution. A part of the solution. It's no longer a problem. We are out of the economic crisis, but we need still to consolidate our fundamentals._
What's the biggest reason and the biggest factor contributing to this growth. Or is it a natural recovery from this crisis?
Well first of all, we are in a world which is growing. And we are part of this world, so we benefit from the world's growth, which will be, if I follow the IMF, around 3.9% and all developed economies are now moving the same direction. Second, we have been correcting the damages of the crisis. There are still some legacies. I think about public debt, but we have made a huge effort to consolidate our public finances. We have built tools in order to address eventual financial crisis. We have created the banking union. We have made a lot of efforts to adapt our structures, we have reformed our economies. That's not the end of it.
How does this growth, this strong growth and positive outlook. How does that translate into Europe's competitiveness?
_We still have weaknesses and we must be conscious of that. Those weaknesses are not now so much about the labour markets. A lot of reforms have been made even around the cost of labour. And we also have economies which are quite innovative, but I would say our main weakness, structural weakness, is the lack of investment. Or the investment gap. We need to invest more. And that's why all our efforts must be dedicated to enhance our investment.
If we want to stay what we are, a leading economy in the world in the future,10 years from now, we need to invest more, to invest as much a China, to invest as much as the US and that's clearly what the commission is trying to impulse. Because 'investment', you can substitute that word for another one: Investment is future. If you don't invest, you have no future._
To what extent is Brexit a concern for the European Union in this process, in growth, in the recovery? Could it derail this recovery?
_No.
But of course it's not good news. It's not good news politically, because we have always constructed Europe by addition and this would be the first subtraction of a very important member state. And economically it's bad for the UK. If I look at the forecast of the IMF, before Brexit the UK was about 2.5% and the EU was around 1.2 or 1.3. Now it's almost reversed. So we must try to build a relationship between the EU and the UK out of the EU which is as solid, as open, as friendly as possible. And that's one of the challenges of the negotiation._
Would the European Commission be willing to give more time to the UK?
I'm not going to comment on that. The talks will open now and we are entering into the most decisive and obviously difficult part of it, so my friend Michel Barnier is there preparing that. But one thing you may be sure of is that the European Commission will negotiate in the name of the 27 member states, defending EU interests and with a system of proposals which is based on principals. One of these principals is quite simple. If you're out, you're out. If you're in, you're in. And being out doesn't mean being in. It has to be different. How different, we'll see.