Euro zone's economic expansion 'solid'
Comments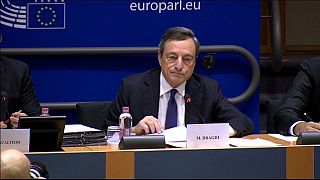 The economy of the euro zone is enjoying the most broad-based expansion in its two-decade history, but wages growth is still far from where the European Central Bank would like to see it.
That message from the bank's president to European lawmakers in Brussels.
Mario Draghi said: "The economic expansion remains solid and broadbased across countries and sectors in the euro area, mainly supported by domestic demand.
"The latest survey data point to unabated growth momentum in the near term."
But on wages, Draghi told the European Parliament: "The improvements in labour markets that we have observed still need time to translate into more dynamic wage growth."
"The re-calibration of our policies for the period beyond the end of this year is meant to preserve the degree of monetary stimulus that is still necessary to secure a sustained return of inflation."
Eurostat, the European Union statistics office, says the euro zone's gross domestic product was up 0.6 percent from July to September, compared to the previous quarter, 2.5 percent higher on a year on year basis.