A high-stakes debate is taking place about how to create a sustainable low-carbon future in which global warming stays well below 2°C.
This year's UN Climate Change Conference COP23 in Bonn accelerates the process ignited by 2015's groundbreaking Paris Agreement. Climate change action — once the domain of scientists — is shaping up through politics.
Developing local and national policies to address the earth's new reality means looking to historic and short-term information and projecting future trends in everything from heat waves to air quality.
In the age of big data, fact gathering and number crunching — along with sophisticated simulations — are key. In such a scientifically complex area, expertise and real-world context can guide decision-makers towards visionary solutions.
Advanced Satellite Tech
Amassing petabytes of information that paints an accurate picture of the planet is no small task, and requires major global cooperation.
Earth observation from space offers a unique vantage point for monitoring the environment. As such, space agencies and climate organisations are also collaborating in what looks to be an important ongoing trend.
Global collaboration across space agencies is currently very active, and includes coordination bodies such as the Committee on Earth Observations Satellites, and the Coordination Group of Meteorological Satellites.
The European Space Agency (ESA) and the European Organisation for the Exploitation of Meteorological Satellites (EUMETSAT), which have long-standing links, have also come together on Copernicus.
This EU flagship earth-monitoring programme also operates in partnership with the European Environment Agency, the European Centre for Medium-Range Weather Forecasts (ECMWF) and other EU and non-EU stakeholders. Central to its cutting-edge data-capturing technology are advanced satellites called 'Sentinels.'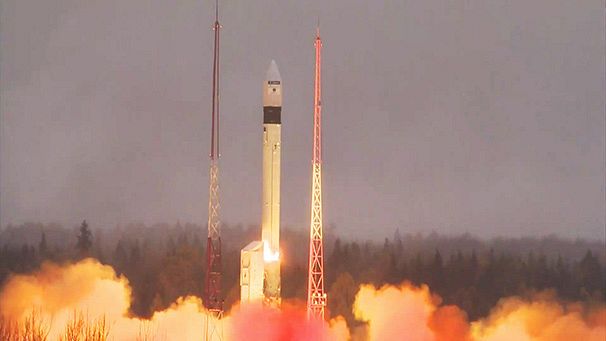 Introducing Europe's Eyes on Earth
Copernicus' six families of satellites are dedicated to observing areas like soil, vegetation, ocean temperatures, and air quality. But they're not the Earth's only eyes. Satellites from other organisations, and thousands of global sea, air and ground sensors further extend the programme's remit.
The resulting data trove is shaped into six categories of free services which offer insight into the earth's past, present and future: climate change, atmosphere, marine, land, security and emergency services.
Assessing how the climate has been shifting in recent decades and understanding in detail how it is changing today, require sharp tools, one of which is 'reanalysis.' This process combines past satellite and weather station observations and advanced modern models of the earth system — such as those used for weather forecasting.
The Copernicus Climate Change Service (C3S), implemented by the ECMWF, uses state-of-the-art high-resolution reanalysis — an evolving area which has grown to cover all components of the climate system: the atmosphere, land surface, ocean and sea ice. By 2019, the service will provide reanalysis data extending back to 1950.
Storage and processing of immense amounts of information takes computing muscle. The ECMWF hosts the world's largest meteorological and climate archive. Its high-performance computing facility and two multi-processor supercomputers — each packed with over 130,000 cores of the latest Intel Xeon 'Broadwell' processors — make this possible. This digital infrastructure is also used for weather forecasting and climate monitoring.
When the ECMWF's computing centre is moved to Bologna, Italy in 2019, it will be updating its arsenal with next-gen supercomputers — boasting a tenfold increase in computational capacity. "We are looking for supercomputer architectures which can handle tomorrow's weather prediction models," says Nils Wedi, ECMWF scientist.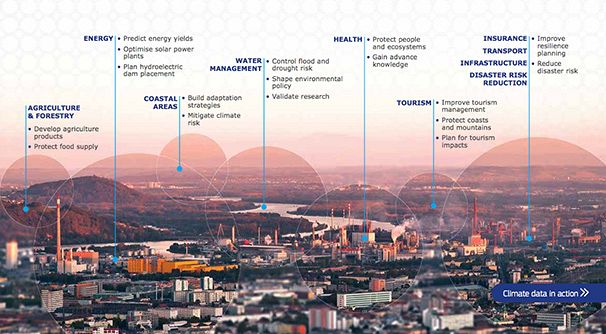 Climate Change in Action
If all of this sounds mind bogglingly high-tech and out of reach, it isn't. Easy-to-read end-products — like maps, charts and graphs — make big earth data, computing heft and expert analysis accessible to anyone.
These Copernicus products are available online for free to EU and international citizens, scientists, policy makers and entrepreneurs — a unique public service with little or no equivalent worldwide to such an extent.
Innovation in the Air
Civil servants and government officials can tap into this resource reservoir to help develop and check the progress of climate initiatives and protect citizens.
In 2017, there were nearly 1,700 forest fires in the EU — more than double the average in the recent eight-year period.
With Southern Europe in particular at risk of heat waves, dry spells and a longer and more extreme fire season, public authorities are in dire need of reliable data on forests' vulnerabilities and air pollutants which can stir up health issues.
"In the field of air quality, a few years ago, there was no way of taking into account raging fires in near-real-time," says Dr. Vincent-Henri Peuch, Head of the Copernicus Atmosphere Monitoring Service (CAMS), "Now, thanks to modelling and observing capabilities from ground to satellite, we can provide this information — and more importantly with a high degree of confidence." They can also forecast European fire risk up to ten days ahead.
Such findings are not only vital in national and European environmental lawmaking; earth data-driven public initiatives can also fuel social and commercial gains.
The National Observatory of Athens developed a tourism app that draws from CAMS information — such as pollen, UV index and ozone levels. This makes it easy for visitors to plan ahead and then enjoy their stay in Greece enough to want to return.
Smart Agriculture and the Green Economy
Food resilience has been a big part of COP22 talks, along with smart farming — data-led plant production, drawing from satellite imagery. And, agriculture is one of the markets expected to benefit much from Copernicus' services going forward.
In fact, Italian environmental consultancy GECOsistema recently took advantage of the available CS3 data to create an online tool which projects climate change-related water shortages.
Even international beer brand Heineken has taken advantage of the public service. Water quality and supply in the western Netherlands region in which it operates is crucial to its business, and could be seriously compromised by climate change. So the brewer has been working with institutional researchers to predict water quality and supply, using C3S data.
The climate change service is also tailoring its findings to the needs of leaders in six targeted business sectors: agriculture, insurance, infrastructure, water management, health, and energy.
Such industries — as well as other commercially-driven sectors like finance and renewable energy — are part of the cross-section of private and public players (among those: NGOs and policy makers) COP23 is aiming to mobilise and activate.
One major UN Climate Change Conference clarion call is: 'grow the green economy through innovation.' Big earth data can fuel this development, with Copernicus providing decision-makers with the free tools they need to take climate action today.