'Fake news': Azerbaijan on claims it ran 2.5 bn-euro slush fund
Comments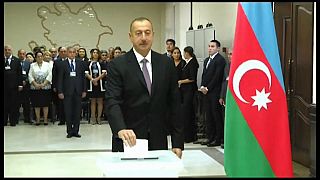 Azerbaijan on Wednesday slammed reports it ran a secret 2.5 billion euro fund to buy political influence across Europe, launder the country's international image and bankroll lavish lifestyles for its ruling elite.
"This report by some media outlets on so-called corruption allegations in Azerbaijan is completely false," said Hikmat Hajiyev, spokesman for the Azerbaijani ministry of Foreign Affairs.
"We perceive it as a vivid example of fake news and orchestrated and biased propaganda against Azerbaijan. We totally reject these allegations," he said, labeling them "propaganda… orchestrated by the Armenian lobby and the Soros fund."
If Transparency International raises the reports with institutions such as the Council of Europe – a top human rights body- Azerbaijan stands ready to challenge their accuracy, he added.
Transparency International says it's now apparent some former members of the Council of Europe were paid to vote down a report critical of Azerbaijan's human rights record and election process.
The NGO was set to meet with a special anti-corruption investigative group at the Parliamentary Assembly of the Council of Europe (PACE) on Thursday to demand a full investigation.
"Currently at this parliamentary assembly (PACE) no one is disciplined if they are found to be receiving these sorts of payments," said Casey Kelso, Advocacy director at Transparency International.
"There is no other discipline other than to suspend their ability to travel or to ask them not to vote. But there is no criminal prosecution," he added.
The Azerbaijani #Laundromat explained. Full story here: https://t.co/hWCYXjQaoBpic.twitter.com/F5VCXxsYd9

— Transparency Int'l (@anticorruption) September 6, 2017