Bankrupt Alitalia starts the difficult job of finding a buyer
Comments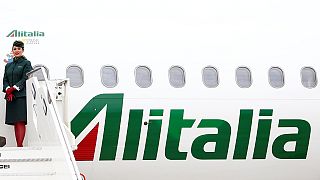 The very real prospect that it could soon be "ciao" for Alitalia is sending shock waves through Italy.
The troubled airline has been put under special administration by the government after two thirds of its workers voted against job and pay cuts in a rescue plan.
In the town of Acilia, near Rome, where many Alitalia employees live, the talk is of nothing else but its uncertain future.
Maintenance worker Corrado Di Vincenzo, who has been with the airline for 30 years, said: "It's not our fault the company is bankrupt. We worked with passion and dedication. The problems are in the management who didn't follow the right strategies. And the government didn't pass the right laws to protect our industry."
Basta
In 2014 Middle East airline Etihad took a 49 percent stake but was never able to negotiate its long-standing labour issues.
Having put around one billion euros into Alitalia it has said "basta" – enough.
Strike prone, unprofitable and losing one million euros a day, Alitalia has a short-term government loan of 600 million euros to keep it flying but little prospect of finding a buyer.
Expressions of interest
Italy's Industry Minister appears to remain optimistic. He said on Wednesday that the sale process for Alitalia will begin in the next two weeks.
"The commissioners need to draw up a programme and are expected to start looking at expressions of interest within 15 days," Carlo Calenda said on Italian radio.
The government appointed three commissioners to see whether Alitalia can be restructured, either as a standalone company or through a partial or total sale, or else liquidated.
"I think however an alliance with another carrier is needed," Calenda said.
The situation is a conundrum for the Italian government. Many Italians are fed up with Alitalia, which has swallowed more than seven billion euros of taxpayers' money over a decade. But there are political risks in letting a company collapse which employs 12,500 workers.