UK economic momentum fading business surveys suggest
Comments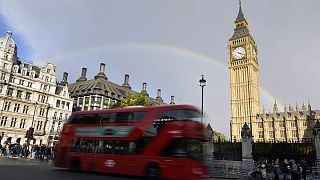 Britain's unexpectedly strong economic growth since last June's vote to leave the European Union may be starting to fade as inflation picks up.
Weaker consumer spending was a key cause of slower service sector growth

Chief business economist, IHS Markit
A major survey of businesses by the financial data provider Markit has found slowing consumer spending is starting to hurt services companies.
So what's the message from the Purchasing Managers' Index – or PMI – that it compiles?
IG market analyst, Chris Beauchamp gave his opinion: "The PMI number dropped to a five-month low but I think we should take that in the context of the spike we've had since the Brexit vote and the drop in sterling really pushing economic activity higher. The big worry is that a lot of the good news is in the price, if you like, where the UK economy is concerned."
Household budgets under strain
"Weaker consumer spending was a key cause of slower service sector growth, suggesting that household budgets are starting to crack under the strain of higher prices and weak wage growth," Chris Williamson, chief business economist at IHS Markit, said.
UK PMIs indicate slowdown in UK GDP growth to 0.4% in Q1. My analysis of our surveys available here https://t.co/KQC9Y844u2pic.twitter.com/jht9fMY4em

— Chris Williamson (@WilliamsonChris) March 3, 2017
The prospect that growth may be slowing caused the pound to slump against the dollar and the euro and dashed talk of an interest rate rise in the UK.
Markit's Williamson said the PMI's fall left it around levels more consistent with a further rate cut by the Bank of England than an increase.
Optimism for the year ahead among British services firms does though remain reasonably strong. It dipped only slightly from January's eight-month high.
In contrast to the UK, eurozone business activity grew at its fastest pace in nearly six years in February according to surveys of the region's purchasing managers. However retail sales in the 19 countries sharing the euro slipped at the start of the year, falling by 0.1 percent in January from December.
The eurozone's economy is finally "firing on all cylinders" https://t.co/D5Vx5kZYUEpic.twitter.com/EOGPpwSANt

— Financial Times (@FinancialTimes) March 3, 2017