EU competition commissioner: working out how much Apple owes Ireland is 'tricky'
Comments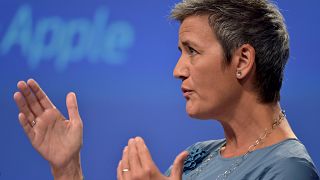 The European competition commissioner has confirmed that technology giant Apple missed a January 3 deadline to pay 13 billion euros that Brussels has said it owes to the Irish government.
Margrethe Vestager explained that was because the Irish tax authorities are still doing their own calculations as to how much Apple could owe.
She told reporters in Dublin: "It's a tricky thing to do because it's a large sum so of course you have to figure out how to do that. It's not like an escrow account in some of the other cases where it's maybe 25 or 30 million euros or something like that and therefore of course I do respect that it's a complicated matter and it may take a little more time that being within the deadline."
The money is supposed to be paid into an escrow (holding) account as both Apple and Dublin are appealing against the European Commission's ruling that the tech firm had been given tax benefits over an eleven year period that amounted to illegal state aid.
The appeal process could take years to get through the various European courts. Vestager said she didn't know even when that would start.
The competition commissioner was in Dublin to answer questions from a committee of Irish MPs investigating the ruling.
Good to meet and discuss with members of the joint Committee on Finance, Public Expenditure and Reform and Taoiseach https://t.co/8dXGVAnAIgpic.twitter.com/omKOjWcbm9

— Margrethe Vestager (@vestager) January 31, 2017
She denied accusations that the commission is carrying out a "witch-hunt" in going after US companies like Apple, Google and Microsoft: "I don't think so, but I do think it's our obligation if we find that, or if we get the suspicion that, someone is not playing by the rule book that we put those concerns into a statement of objection in order to hopefully for the future to have behaviour that lives up to the very fundamental that we want – fair competition."
► VIDEO: vestager</a> broke Ireland's role in the Apple Tax story, here's the background ahead of her visit to Dublin <a href="https://t.co/x9tM4h3p2A">https://t.co/x9tM4h3p2A</a> <a href="https://t.co/LZbUl5uGW5">pic.twitter.com/LZbUl5uGW5</a></p>— Irish Times Video (irishtimesvideo) January 31, 2017