Animal rights group buys LVMH shares to pressure it over skins
Comments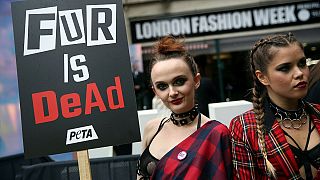 The animal rights group Peta has become a shareholder of the French luxury goods maker LVMH.
Peta – which stands for People for the Ethical Treatment of Animals – said it had bought an unspecified number of shares so that it can pressure the firm to stop selling bags and other merchandise made from exotic skins.
The organisation – which is well known for protests – will have access to shareholder meetings and the right to question board members by being an investor.
It previously followed the same policy with another luxury group – Hermès – buying just one share. At the annual shareholders' meeting in Paris a Peta member questioned the company's CEO about the use of exotic skins.
LVMH has denied allegations that it had bought skins in recent years from a Vietnamese crocodile farm accused of cruelty.
#BREAKING Luxury good maker LVMH</a> said Louis Vuitton brand ceased all trading w Vietnamese farms which <a href="https://twitter.com/peta">peta alleged mistreated crocodiles.

— Nahayat Tizhoosh (@NahayatT) January 13, 2017