Istanbul attack is a further blow to Turkey's tourism industry
Comments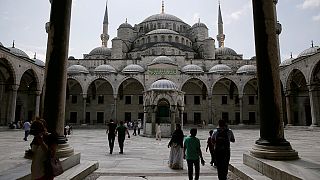 The Istanbul New Year's nightclub shooting is yet another major blow to Turkey's tourism sector, which was already reeling from a series of terrorist attacks over the past year.
The number of foreign arrivals to Turkey fell by 21.3 percent in November, from the same month in 2015, according to the Tourism Ministry.
Tourists in Istanbul were mostly resilient.
Paula Daian, a Romanian tourist now living in Germany, said: "I think the most important thing is that we keep living our lives the way we have been and the way we planned, that is the only logical response we can have to terrorism so that we can actually fight it in our day-to-day lives."
Pavlina Rybnikarova, a Czech tourist, admitted: "I feel a bit nervous, I must admit it… you know it's horrible, people come here to have fun and celebrate New Year's and some individual just start to shoot them."
Russian tourist Efim Kogan was determined to proceed with his holiday: "Istanbul is beautiful, we are here for the next five days and we don't intend to leave. I am here with my wife and we will enjoy out time here."
But many more are staying away – in the first nine months of 2016 revenue from tourism in Turkey was down by around a third from the previous year, hitting the country's economy badly.