Nissan rescues Mitsubishi after mileage fixing scandal
Comments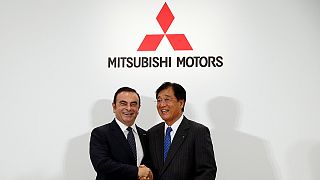 Nissan has completed its purchase of a controlling stake in Mitsubishi, paying the equivalent of just over two billion euros for 34 percent of the shares.
Nissan is rescuing Mitsubishi, which is struggling to recover from a scandal over falsifying the fuel economy figures of a number of its vehicles.
Carlos Ghosn – who is chairman and chief executive of both Nissan and Renault – will be Mitsubishi's chairman. He said "rebuilding trust" in the carmaker is its number one priority.
Osamu Masuko will remain the company's president despite calls by some shareholders for him to resign over the scandal.
Nissan-Renault CEO Ghosn to chair Mitsubishi Motors: Carlos Ghosn will work to restore faith in the troubled … https://t.co/neJ9mjBAkO

— Autosinsider (@Autosinsider) October 20, 2016
Masuko had offered to stand down, but Ghosn said that keeping him was an "important condition" in proceeding with the partnership, adding that all management decisions would be made by Masuko.
"One of the reasons that I so much wanted Mr. Masuko to stay as CEO was because I wanted the people at Mitsubishi to know that Mitsubishi will remain Mitsubishi. Mitsubishi will not become a subsidiary of Nissan," he told a briefing of journalists.
"This sends a strong message that it's not Nissan that's going to transform Mitsubishi, it's Mitsubishi that's going to transform Mitsubishi."
We're excited to have #Mitsubishi Motors join our family. Read more: https://t.co/24NW5yru62pic.twitter.com/uuFKWDyIui

— Renault-Nissan (@TheAllianceRN) October 20, 2016