LG Electronics seeks to revive mobile fortunes with V20 smartphone
Comments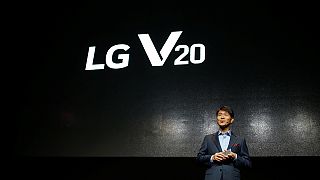 South Korea's LG Electronics has unveiled its new V20 smartphone, seeking to recover from a series of losses in the mobile market.
Its phone division reported a fifth straight quarterly operating loss from April to June.
Production problems and the success of rival Samsung's Galaxy S7 phones led to disappointing sales for LG's previous model.
"As you know, we're going through many difficulties, so we hope the V20 will be a turning point. And we're working very hard to make it happen," said LG's mobile division chief, Cho Juno, at a news conference in Seoul.
The new phone offers upgrades from its predecessor including dual rear cameras and improved audio, photo and video functions.
It will compete with Apple's new iPhones – though Samsung's recall of the Galaxy Note 7 smartphones may provide some breathing space.