Greek economy still struggling despite mild Q2 expansion
Comments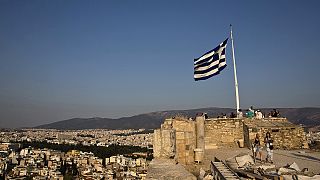 Greece's battered economy grew between April and June – but only by 0.2 percent from the first three months of the year.
What rebound? I'm ready to kill myself

Athens street vendor
And the latest estimate by the government's statistics service show the economy shrank by 0.9 percent from the same period last year.
Amid sales-tax increases and pension cuts, consumer spending weakened.
It was down 0.2 percent quarter-on-quarter and 1.9 percent year-on-year.
The economy has shrunk by about a quarter since the debt crisis in 2009.
The country's unemployment rate remains at nearly 24 percent, the highest in the eurozone.
Trade was another weak spot as imports fell 0.4 percent, while exports decreased by 1.0 percent.
Greece is being kept afloat by international bailouts, issued on condition of successive spending cuts and reforms.
The latest bailout review is due, which would release 10.3 billion euros in fresh loans.
National Bank economist Nikos Magginas said: "The figures are in line with expectations for a recovery in the second half of the year, unless there is a further slump in private consumption."
The European Commission and the Greek central bank project a 0.3 percent economic contraction in 2016 while the OECD sees a milder 0.2 percent decline. Rating agencies Moody's and S&P are more pessimistic, expecting the economy to shrink 0.7 percent and 1.0 percent respectively.
The EU sees the Greek economy rebounding by 2.7 percent in 2017.
What do Greeks think?
"The

GDP

turnaround in the second quarter doesn't mean a thing for us in retail trade, there is no liquidity in the market" – Antonis Papadakis, 60, a clothing wholesaler who has seen his sales fall 70 percent during the debt crisis years.
"What rebound? I'm ready to kill myself" – Tassos Sidiropoulos, a street vendor selling nuts in central Athens.