Japan to postpone sales tax hike
Comments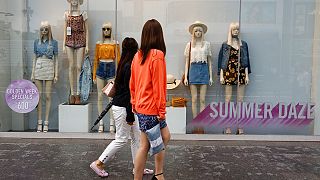 Japanese Prime Minister Shinzo Abe plans to delay an increase in the country's sales tax by two and a half years.
A government official said he has told the finance minister and others in his party that he believes VAT should go up from eight to 10 percent in October 2019 rather than the originally timing of April 2017.
Despite massive monetary stimulus by the Bank of Japan and the government as they try to lift the country out of two decades of deflation growth is faltering.
Core consumer prices and exports fell in April, and manufacturing shrank at the fastest pace since Abe took office in 2012.
Japan fell into recession after Abe raised the sales tax from five percent in April 2014. That was to try to reduce government debt. Consumption has still not recovered.
#Japan's Nikkei closes up 1.4% at 17068.02 and Yen weakens considerably as as Abe said to postpone sales tax hike. pic.twitter.com/ioK3zNVcwd

— Holger Zschaepitz (@Schuldensuehner) May 30, 2016
After chairing a summit of Group of Seven leaders last week, Abe said Japan would mobilise "all policy tools" – including the possibility of delaying the tax hike – to avoid what he called an economic crisis on the scale of the global financial crisis that followed the 2008 Lehman Brothers bankruptcy.
"There is a risk of the global economy falling into crisis if appropriate policy responses are not made," Abe told a news conference after the summit. To play its part, Japan "must reignite powerfully the engine of Abenomics," he said, referring to his stimulus abd easy-money policies.