Brexit 'could cost UK billions' says Confederation of British Industry
Comments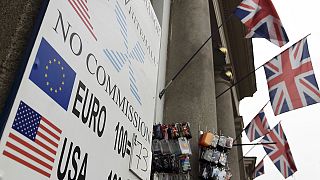 The British government has fresh ammunition in its campaign to keep the UK in the European Union.
New research claims the so-called Brexit could cost its economy 100 billion pounds (127 seven billion euros) by 2020.
As well as hitting living standards and growth it could also mean a loss of 950,000 jobs
The study was commissioned by the Confederation of British Industry, which represents employers in larger businesses.
CBI Director-General Carolyn Fairbairn said the UK economy would suffer a serious shock with a negative impact on trade and investment that would outweigh the savings from reduced EU budget contributions and regulation.
"This analysis shows very clearly why leaving the European Union would be a real blow for living standards, jobs and growth," warned Fairbairn.
CBI (Confederation of British Industry) and London Business School help separate 'fact' from 'fiction' on #Brexithttps://t.co/ERftoZXWjS

— Global Governance (@GlobalGovern) 21 March 2016
The CBI said that was also regardless of any trade deals negotiated by Britain with its former European partners.
It commissioned accountants PwC to examine two different exit scenarios based on the likelihood of reaching new trade deals.
Under both, it said British living standards, economic growth and employment would be significantly reduced compared with staying.
Economic output could be curtailed by as much as about five percent of GDP by 2020, or 100 billion pounds, it said, while even in a scenario where a free trade agreement with the EU was rapidly secured, GDP might still be reduced by three percent.
Read the full test of a speech about the research by CBI Director General Carolyn Fairburn at the London Business School here