Lego victim of own success as it warns of Christmas shortage
Comments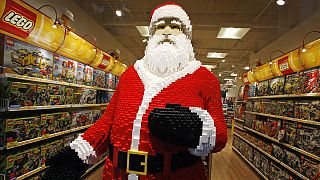 A Christmas stocking crisis beckons in Europe this year.
Many children may be disappointed because according to reports it seems demand for lego is outpacing supply – and the result is a potential chronic shortage of plastic bricks.
The Danish company – which has become the world's largest toymaker by sales – says if customers have already placed an order, then all well and good.
However it adds that it may have trouble filling new orders later this year.
Exactly which toys or which countries are affected hasn't been specified. Denmark and Canada were among countries hit by a shortage last year.
Lego says it's running its factories at maximum capacity and will do everything it can to satisfy demand.
Over the past few years it has gone from near insolvency to phenomenal success.
The company invested three billion Danish krone (400 million euros) last year in plants and equipment. Fuelled perhaps by the success of The Lego Movie, sales grew by nearly 20 percent in the first half of this year.
Lego is also building a new Chinese factory which should be up and running by 2017 and is aimed at supplying the Asian market.
All hands to the moulding machines! We need more LEGO sets! #LEGOhttps://t.co/o5dVLKEpzs

— Lars Silberbauer (@larssilberbauer) October 21, 2015