'Last chance' meeting for Greece as euro zone creditors gather
Comments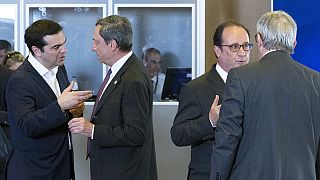 He has spoken to President Obama on the telephone, Greek government officials say.
But Prime Minister Alexis Tsipras needs help closer to home as he
desperately tries to win fresh aid for Athens from sceptical creditors at Tuesday evening's emergency summit of euro zone leaders.
Germany's Angela Merkel though said on arrival that there is still no basis for reopening negotiations with cash-strapped Greece after its
people rejected the austerity-terms of a previous bailout offer.
European Commission President Jean-Claude Juncker says a Greek exit from the single currency should be avoided but warned the ball lies in Athens' court to come up with convincing proposals.
Early reports from Brussels however suggested that Greece had put forward no concrete plans for a new bailout deal.
Taking to Twitter before Tuesday evening's summit, Malta's Prime Minister Joseph Muscat said no such written proposals had been submitted during an earlier meeting of euro zone finance ministers.
The absence of a concrete proposal by #Greece government doesn't help this evening's #Eurozone leaders' meeting -JM

— Joseph Muscat (@JosephMuscat_JM) July 7, 2015