Greek parliament authorises referendum on bailout offer
Comments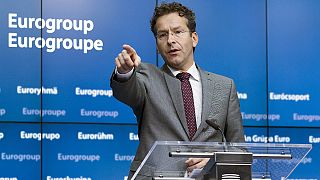 Greece's parliament has authorised a referendum on a bailout offer from foreign creditors. It is set to take place on the 5th of July.
Prime Minister Alexis Tsipras, who has been calling for the vote, wants Greeks to reject the proposed financial deal, which he has described as "insulting."
But eurozone finance ministers have rejected a request from Athens to extend its bailout programme beyond Tuesday, when an IMF repayment is due.
If Greece does not unlock new funds, it will default – and could ultimately leave the euro.
The referendum decision comes after President of the Eurogroup Jeroen Dijsselbloem announced financial aid for Greece will stop, full-stop, on Tuesday night (June 30).
Remarks by Eurogroup President @J_Dijsselbloem at the intermediary #Eurogroup press conference: http://t.co/ZgbXFBxC2I.

— EU Council Press (@EUCouncilPress) June 27, 2015
"The Greek government has broken off the process, has rejected the proposals and is now putting them – which is also an unfair way – putting it now to the Greek people in a referendum with negative advice," Dijsselbloem announced. "Given that situation, I think we must conclude that, however regretful, that the programme will expire on Tuesday night."
#Eurogroup statement on #Greece: http://t.co/dTieiXtR6J.

— EU Council Press (@EUCouncilPress) June 27, 2015
Greek finance minister Yanis Varoufakis says he believes a deal can still be struck, despite the Eurogroup's statement.
Stuck between a rock and a hard place, some might say, the onus is on the Greek people to decide whether or not to accept the deal proposed by the country's international creditors.
Varoufakis is calling for better proposals, however Dijsselbloem has said in no uncertain terms that the plans laid out have already offered the "maximum" flexibility possible.