Rostropovich Festival in Bustling Baku
Comments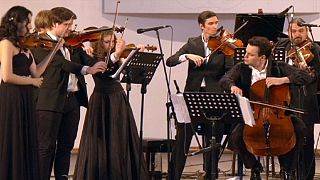 The Mstislav Rostropovich Festival is on in Baku the event is in honour of cellist and conductor Rostropovich.
Rostropovitch is considered one of the greatest cellists of the 20th century.
A young musician, Arseniy Chubachin is greatly influenced by the master:"I have tried in this concert to do something new. Today we will play a world premiere, of a modern version that has never been heard before on cello. And of course for this I have been inspired by Mstislav Rostoropovich."
Rostropovitch left the Soviet Union 1974 as his engagements dried up because of his support for Nobel Prize winner Alexander Solzhenitsyn.
His daughter is Olga is the artistic director:
"My father always loved this wonderful town, because he was born in Baku. He had very warm feelings for this town, he always loved the city and I must say that the people always loved him here. I am very happy that I am able to introduce this beautiful city to great musicians who have never been here before."
Russia's best known saxophonist Igor Butman is no stranger to the charms of Baku:"Its very good feeling when you play for people of different ages you want to have all the audience. But when you see young people we feel really great. We are going to play jazz we are going to play some of Duke Ellington's 'Far East Suite' that we kind of associate with Baku and Azerbaijan. For us, its kind of the Eastern part of Europe."
Conductor Teymur Goychaev led the Azerbaijan State Chamber Orchestra performance at the Baku Chamber Music Hall, with a repertoire of works by composers from Western Europe, Russia and Azerbaijan.