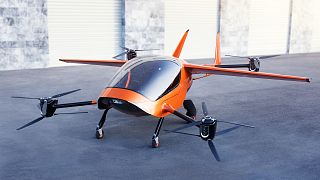 Over the past few years, electric vertical take-off and landing (eVTOL) prototypes have been unveiled by the likes of Airbus, Boeing, Volocopter GmbH and Joby Aviation in an effort to stake their place in the growing urban air mobility sector.
But this Israeli start-up is looking to set itself apart from the pack by building an eVTOL designed for use by the masses.
"The vast majority of the market is going to the commercial side, e-taxis, electric taxis, and buses… AIR, based on our technology, is the private car of the category which is bringing high availability of air traffic to most people," said AIR's CEO and co-founder, Rani Plaut.
He envisions his company's eVTOL, being used for short commutes high above city traffic or leisure trips but concedes there are a number of regulatory hurdles to clear before this becomes a reality.
Still, he expresses confidence that the AIR ONE already meets most existing regulations and will be easy and safe to operate.
"The flight training of the AIR ONE is a very very short process. We are enveloping the user basically with this software. Meaning, the aircraft doesn't fly itself, but you operate it by asking the aircraft, using the stick, what you want to do. And then the aircraft translates it to manoeuvres," Plaut said.
AIR's eVTOL is still in its testing phase and has recently achieved a key milestone having completed the aircraft's maiden unmanned flight.
AIR's next test flight will have someone onboard, Plaut said.
Pending regulatory approval, the company hopes their prototype will hit the market at the end of 2024 at a base price of around €140,000.
Average day-to-day speed will be about 160 kph at an altitude of 366 m, Plaut said.
For more on this story, watch the video in the media player above.