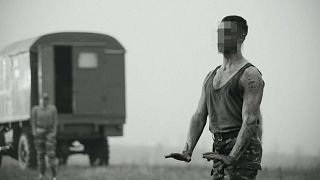 A kaleidoscopic feature that both reconstructs and deconstructs the tragedy and aftermath of the downing of flight MH17 over Ukraine is to premiere at the Sundance Film Festival.
Iron Butterflies was directed by Roman Liubyi, a Ukrainian and produced by Babylon 13, the association of independent filmmakers formed after Maidan and the 2013 "Dignity Revolution".
He spoke to Euronews before flying out to the festival in the United States.
"This film reflects many things," he explained. "It is not just about this event, the downing, but also about all the consequences and, also, it reflects how this event changed the information and media ecosystem of the world."
The passenger plane was flying at high altitude from Amsterdam to Kuala Lumpur in July 2014 when it was hit by an anti-aircraft missile fired from an area of eastern Ukraine occupied by pro-Russian separatists.
All 283 passengers and 15 crew died. There were no survivors. The subsequent criminal investigation eventually concluded a Russian missile was responsible, whether fired accidentally or not. However, Russian propaganda rejected any involvement, a tactic that was to be an aspect of the hybrid war in Ukraine that began long before 2022's invasion.
"What is black and what is white was mixed and was really hard to talk about it, and now, like all the world understands who is the criminal," said Roman Liubyi.
Iron Butterflies will have its European premiere at the Berlinale, which opens on 16 February.
Watch the video in the player above.