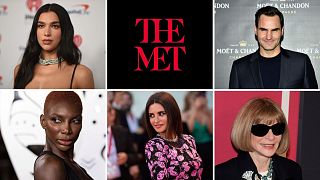 Before we know it the 2023 Met Gala will soon be upon us - one of the most highly-anticipated events in the fashion industry. 
Each year, the event brings together celebrities from various fields, including film, television, sports, music, and fashion, to raise funds for the Costume Institute at the Metropolitan Museum of Art in New York City.
This year's Met Gala, taking place on 1 May, is set to honour the legendary fashion designer Karl Lagerfeld, who passed away in 2019. The theme, "Karl Lagerfeld: A Line of Beauty", will celebrate the life and work of the iconic designer, who was known for his contributions to the fashion industry as creative director of luxury fashion brands such as Chanel and Fendi.
A lineup of Michaela Coel, Penélope Cruz, Roger Federer and Dua Lipa have been announced as the evening's co-chairs, alongside Anna Wintour, who has chaired the Met Gala since 1995. 
This bunch of outrageously attractive celebs - none of which, surprisingly, are American - have all made a significant impact in the realm of popular culture. 
Let's take a quick look at their contributions: 
British-Albanian singer-songwriter and three-time Grammy winner, Dua Lipa, known for her hit songs 'New Rules' and 'Don't Start Now', has become one of the world's biggest pop stars in recent years. She's just completed her Future Nostalgia world tour and there are rumours speculating online that she'll be releasing her third album later this year. 
Michaela Coel, best known for creating, writing, and starring in the critically acclaimed HBO series "I May Destroy You", has become one of Hollywood's most sought-after talents. She also landed a role in the Marvel mega-film Black Panther: Wakanda Forever.
Penelope Cruz, who received her fourth Oscar nomination for her role in Parallel Mothers last year, is renowned for being a muse to Karl Lagerfeld, and her red carpet appearances have consistently made headlines for her impeccable taste and elegance.
Roger Federer, considered one of the greatest tennis players of all time and holder of 20 Grand Slam titles, recently announced his retirement from the sport and now focuses on business ventures and philanthropic efforts through his foundation. But Federer won't just be remembered as one of the best to ever wield a racket - he's also one of the most stylish and fashionable players to ever grace the sport. 
While the full guest-list for the 2023 Met Gala will only be revealed on the night, it is sure to be an evening of glitzy A-list glamour.
The 2023 Met Gala will take place on Monday 1 May at The Metropolitan Museum of Art.