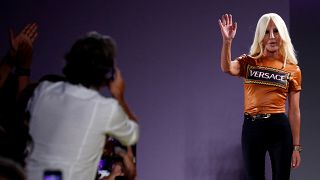 Italian designer duo Dolce & Gabana turned back the clock in Milan this week, with the help of some of their most famous models.
Monica Belluci took to the runway in a fitted polka-dot dress, followed by Carla Bruni in a brocade suit, and a caped Isabella Rossellini, who walked with her children, Roberto and Elettra, and grandson, Ronin.
Plus-sized model Ashley Graham was also on the catwalk in a semi-sheer leopartd print dress.
The elaborate 2019 Spring/Summer collection was a reminder that regardless of age, shape or height, everyone looks good in a well-tailored ensemble.
At the Versace show, the spotlight was on the new generation of models. Gigi Hadid, Kendall Jenner and Irina Shayk were all on the runway to showcase a collection filled with coloured stripes, flowers over pinstripes, checks and roses.
"The style of the Versace woman is so recognisable that it need not be explained," read a style note by the fashion house, known for its daring, sexy designs.