Meet Marian, a model with Down syndrome who will star at New York Fashion Week
Comments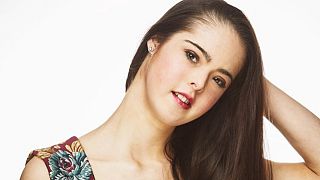 Marian Avila's dream role is fast approaching. On September 8, she will become the first Spanish woman with Down syndrome to star in one of the most important fashion events in the world — New York Fashion Week.
"Ever since I was little, I wanted to be a model, I've always said that," recalls Marian in an interview with Euronews.
At 21, her effort and dedication has paid off. Since her modeling career began two years ago in Madrid, she has appeared at prestigious events Spain but never had the opportunity to be part of something so big.
An unexpected message
Her life took a surprising turn one night in August, when she received a message on Facebook.
"Hello! I am the winner of the Miss Citrus State Junior Jr contest and I live in the United States," the text read.
"I just read an article about you that has touched my heart. I noticed that you've always wanted to parade at New York Fashion Week! It turns out that I am the daughter of the model coordinator for New York Fashion Week and we would like to make your dream come true ... Please, tell me if you are interested."
At just 14-years-old, Kenzie Dugmore had weight in the fashion world. And after winning a modelling contest in 2017, she had to pick two causes for which to be an international ambassador. She opted to tackle bullying and defend people with Down syndrome, which led her to discover Marian.
"I told her that my dream was to model in New York," Marian says.
Fulfilling a dream
After talking to Kenzie, Marian did not stop training. She practiced walking and posing in her house, following the advice of one of her favorite models: Nieves Alvarez. She waited patiently until Dugmore contacted her again in April this year.
"My angel got in touch with designer Talisha White (to ask) if I could participate in the fashion show."
Marian is set to break stereotypes when she hits the catwalk at the New York's Central Park Hotel, modelling a collection of gala dresses by renowned designer Talisha White, who's passionate about inclusion and women's empowerment.
The very idea makes her heart race: She loves to wear long evening dresses and heels. And not only that — White will also present her as her "celebrity model".
"I think it's going to be super good. It's a super important event and everything," Marian exclaims.
The young model believes her story could inspire other people with the same condition.
"Everyone is different, but we can be equals. We should strive to be unique and to chase our dreams, and to keep going like I do."