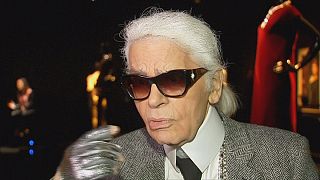 Karl Lagerfeld was in London to open the Chanel exhibition at the Saatchi Gallery. The "Madamoiselle Prive" showcases the worlds and works of the late founding designer Gabrielle "Coco" Chanel and creative director Lagerfeld.
He created a whole new collection round the High Jewellery "Bijoux de Diamants" collection created in 1932.
"Normally I don't take care of Chanel jewellery, but they asked me to do something special for this collection so I made a choice of people we know, friends and things like this and made special dresses for each girl, what was right for her personality and put the jewellery on. So it was a very personal thing," he said of his role in the exhibition.
The diamond pieces were modeled by celebrities like British singer Rita Ora at Chanel's July haute couture show in Paris with each celebrity wearing specially-designed gowns.
Karl Lagerfeld has been creative director at Chanel since 1983, he also has the same title at Italian fashion house Feni and his own eponymous label. Has the 82-year old thought about retirement?
"No I don't ask myself that question. I am not in the bin yet. I don't ask myself the question given my contract is for life and I have centenarians in my family, we have time."
'You know, it's a great luxury to have the possibility to do what you want to do in the best circumstances. That's unique so I've been pretty lucky," was his response.
The exhibition brings to mind the House's essential elements: audacity, freedom and innovation whether it's the history of Gabrielle Chanel's inspirations or Karl Lagerfeld's inimitable take on Chanel's symbols and icon.
The "Mademoiselle Prive" exhibition is at the Saatchi Gallery in London until November 1.