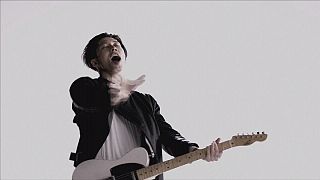 Takamasa Ishihara, better known by his stage name Miyavi, is one of Japan's most remarkable musical exports.
Best known globally for his debut acting role in Angelina Jolie's 'Unbroken', where he plays a psychotic prison guard, Miyavi the singer-songwriter is currently on a world tour. At a gig in London, we asked him about his unique slapping style – inspired by the traditional Japanese instrument called the Shamisen – which has earned him the nickname "samurai guitarist".
"As an Asian guitarist I just wanted to find my distinct style so I just started slapping the strings. And then with the drummer, Bobo, only two people on stage, it's simpler and solid. It's a really kind of intense performance, so, more freedom and a low budget!," he said about his stripped down band of two.
Miyavi's latest album 'The Others' was produced by Grammy-winning producers Drew and Shannon. Much of it was recorded in Nashville and the artist says the spirit of the country music capital definitely wore off on his work: "I feel the vibes – to me it's a spiritual spot. Every time I go to Nashville, I always pray, in just the normal streets, with cars passing by."
Fans at a recent London concert were thrilled to see their idol on stage.
"The first time I saw him it was amazing, a big surprise for me. I have never seen him playing that kind of a guitar, it was just fantastic," said one enthusiastic fan.
"He is just an amazing human being and it really comes across in his music and everything he does, he makes everyone happy, and the world needs that, the world really needs that and Miyavi is that person," said another.
The EU-leg of Miyavi's 'We are the Others' world tour ends in Helsinki this month. It continues in Asia with extra dates in Seoul in December.