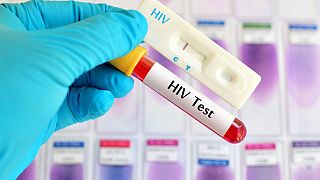 A 53-year-old man in Germany has become the latest person to have been "cured" of HIV, the AIDS-causing virus, bringing hope to the estimated 40 million people living with the disease worldwide.
The patient, who is being referred to as the '"Düsseldorf patient" to protect his identity, is believed to be the fourth person to date and the third man to be considered free of the virus, according to researchers.
He was being treated for leukaemia - a type of cancer that affects the blood and bone marrow, the spongy tissue inside bones where blood cells are produced - when he received HIV-resistant stem cells from a marrow donor.
The man stopped taking antiretroviral therapy (ART) - the main treatment for HIV - in 2018 and has remained "alive and in good health" ever since.
Before him, two caucasian male cancer patients known as the "Berlin patient" - Timothy Ray Brown - and the "London patient" - Adam Castillejo - were cured of HIV after receiving the same bone marrow stem cell transplants from a person with genetic resistance to HIV.
To date, there has been no known cure for HIV but does the news that a fourth person has successfully eradicated the virus in their body mean that is all about to change?
The Berlin patient: The first cured?
Unfortunately, it is not that simple, but there is evidence to suggest that there are treatments that have successful reversed the disease.
Timothy Ray Brown was an American who was declared the first man clinically cured of HIV.
In 1995, he was living in Berlin when he learned that he had contracted the virus and in 2006 he was diagnosed with leukaemia.
Two stem cell transplants were necessary to bring him into remission. In 2008, Brown was declared cured of both HIV and cancer.
His case was hailed as a great victory, and in 2010 he agreed to reveal his identity becoming a public figure. "I am living proof that there may be a cure for AIDS," he said in a 2012 interview with the AFP.
Sadly in 2020, Ray Brown died of a remission of his leukaemia.
The London and New York patients: Cause for hope?
While Ray Brown was presumed to be an isolated case, was replicated with the London Patient, Adam Castillo, a Venezuelan born now 43-year-old British chef, who was named the second person in the world to be cured of HIV.
He endured a decade of brutal treatments before he became what he called "an ambassador of hope."
Much like the Düsseldorf patient, a third patient - a middle-aged, mixed-race woman who came into HIV remission - retained her privacy and was christened the "New York patient".
The woman received a different type of treatment to the others; instead of bone marrow stem cells from donors, she received with stem cells from the umbilical cord of a newborn with natural immunity to HIV.
In 2022, the woman decided to opt out of the antiretroviral therapy, and more than 14 months later, she still showed no signs of HIV. However, her seeming remission - which opened up the way for an HIV cure for a wider array of people using blood from umbilical cords - is oftentimes discredited after some researchers cautioned it was too early to be sure of the treatment.
The 'Düsseldorf patient'
In a study published last week in the scientific journal Nature, scientists hailed the news of the "Düsseldorf patient" becoming "at least" the third person with HIV to be cleared of the virus.
For years, antiretroviral therapy has been administered to people with HIV to reduce the virus to almost undetectable levels, preventing it from being transmitted to other people.
But the immune system is smart enough to keep the virus locked up in reservoirs in the body, and when patients stop taking the antiretroviral therapy, the virus often begins replicating and spreading.
A true cure would eliminate this reservoir, and this is what scientists think has happened with the three male patients: Düsseldorf, Berlin, and London.
Upon subsequent examinations, scientists failed to identify antibodies against the virus, which is a sign of its activity.
Are stem cells are the way forward?
Scientists say that stem cell transplants are never going to be a scalable treatment for HIV, as they are highly invasive and carry too many risks.
Although the study authors say the future of HIV-resistant stem cells is "neither a low-risk nor an easily scalable procedure," its relevance is highlighted by recent reports of successful long-term HIV-1 remission after using the procedure.
But the science behind each complete remission known so far is still important.
They think further research into this approach "may hold the promise of an HIV-1 cure outside of life-threatening haematological malignancies," meaning cancer cases that begin in blood-forming tissue, such as leukaemia and lymphoma.
They also say that the observations made in the case of the Düsseldorf patient could provide "valuable insights that will hopefully guide future cure strategies".
HIV infection is currently incurable, but it can be controlled and kept at bay with antiretroviral treatments. However, of the nearly 38 million people living with HIV worldwide, 10 million of them do not have access to treatment.
A cure is key to ending the decades-old pandemic
Janssen Pharmaceuticals announced in January this year the end of a trial for the only HIV vaccine in advanced trials, which experts have deemed not to be effective.
But "there are other strategic approaches," said Dr Anthony Fauci, the American public health official that led the United States' response to the COVID-19 pandemic.
They say every new patient cured of HIV through a bone marrow cell transplant is like sending someone on a rocket to the Moon: it's great science, but it's not the way we're going to travel.