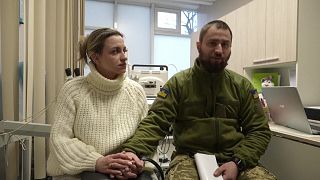 When young Ukrainian men joined the army as Russia invaded their country on February 24, 2022, they couldn't have known that the war would last a year.
With no end to the conflict in sight, soldiers are now thinking about contingency plans to have a family in case they do not return home - by freezing their sperm to ensure their legacy.
Fertility clinics in Kyiv are offering free services to those serving on the frontline to freeze their semen through cryopreservation, a service that initially began when the war in Eastern Ukraine broke out in 2014.
IVMED, a private fertility clinic in Kyiv, has so far registered approximately 150 cases of military personnel alone.
Fifty women, whose partners are still alive and fighting, have now used insemination to attempt to get pregnant.
One of these 150 couples is Vitalii Khroniuk and his wife, Anna Sokurenko.
Khroniuk realised that he wanted to "leave something behind" when he was praying during artillery shelling.
"At this moment you think, damn it, you so want the child to be, to stay, and to be loved. Leave something behind," he said.
When he first told Sokurenko that he wanted to preserve his sperm, she didn't dismiss the idea immediately.
She said that it was very painful to think that there was a possibility that Khroniuk might not return. But the next day after he proposed the idea, she said yes.
Ukraine facing demographics problems
Sokurenko now plans to use the sample at IVMED to get pregnant.
"I think it's a very important opportunity in the future if a woman loses her loved one," she said.
"It will make sense for her to continue to fight, to continue to live, and she will still carry a part of her lover inside her".
The clinic stores 4,500 ml of sperm in liquid nitrogen, accumulated over the last ten years since its opening.
"You can impregnate half of Kyiv with just one dose," Halyna Strelko, a fertility doctor and the head of the IVMED clinic, said.
As it often has power cuts due to Russia's attacks on Ukrainian infrastructure, the laboratory is powered by autonomous batteries in order to ensure a temperature of -196 C.
For Strelko, who has been in the fertility business since 1998, the concern now is the future of Ukrainian population demographics.
"No one is talking about it now, but when this is all [the war] over, we will have a very terrible demographic problem," she says.
"Now everyone pretends that everything is fine, but I don't even know how to solve it".
For more on this story, watch the video in the media player above.