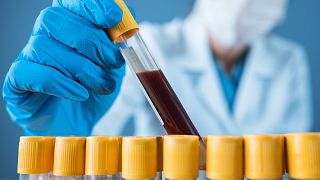 -
England is on track to be one of the first countries in the world to wipe out hepatitis C, thanks to a billion-pound medicine deal and "find and treat" programmes.
The country could eliminate the virus by 2025 - years ahead of the World Health Organization's (WHO) overall target of 2030, the UK's National Health Service (NHS) said on Wednesday.
The service released figures showing deaths caused by hepatitis C - including liver disease and cancer - have fallen by 35 per cent, following the five-year drugs contract. The WHO's target for deaths reduction is currently 10 per cent.
Hepatitis C infects the liver and can cause potentially life-threatening damage to the organ if untreated.
It is spread through blood-to-blood contact, most commonly through shared needles.
While it is treatable in most cases, detection isn't always easy, as it doesn't present symptoms until the liver has been damaged.
'Find and treat'
Because of this, it is important to track people who may be at risk of contracting the virus, as they won't show symptoms immediately.
The NHS set up dedicated "find and treat" programmes, working with charities including homelessness charity St Mungo's.
Many people who have experienced homelessness do not have regular medical checkups, and can therefore suffer from conditions that aren't diagnosed, including hepatitis C infection, which can be detected with a simple blood test.
With its outreach programmed, NHS teams have provided same-day screenings for people who have been historically hard to reach and treat - and anyone testing positive is given a full course of treatment.
"People who've experienced homelessness are at a higher risk of contracting hepatitis C," said Sara Hide, a hepatitis C coordinator at St Mungo's in Oxford.
"This can be due to substance use but also sharing toothbrushes, razors and other general lifestyle factors associated with sleeping rough".
HIde's organisation teamed up with the NHS to reach more marginalised groups.
"With treatment for hepatitis C now less invasive – a course of medication for eight to 12 weeks – we've seen an uptake in people responding to our screening services. We also screen for other conditions at the same time to identify clients that might need extra health support," she said.
These 'find and treat' initiatives have helped to cure 70,000 people, and "drastically reduce" the number of people needing liver transplants due to hepatitis C, the NHS said.
Within six years, the number of people seeking liver transplants due to the virus is down by two-thirds and the number of annual registrations for a liver transplant in patients with diseases related to the virus reduced from over 140 per year to less than 50 per year in 2020.
The virus is treatable, with effective antiviral drugs curing more than 95 per cent of patients, with minimal side effects.
The NHS estimated there were around 118,000 people in the UK with chronic hepatitis C in 2019.
The European Centre for Disease Prevention and Control (ECDC) estimates there were 3.9 million people living with hepatitis C in the EU, UK, Iceland, Liechtenstein and Norway in 2015.
A 2022 ECDC report on hepatitis said there were gaps in the available data on hepatitis across Europe, and it called on countries to prioritise the collection of more complete monitoring data.
Available data shows progress across the EU region is variable, with many countries "far from reaching" the WHO target.