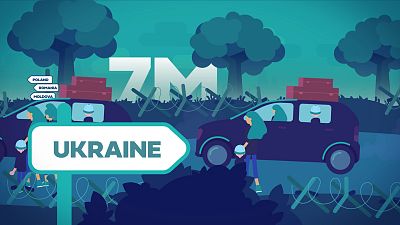 Since the beginning of Russia's war in Ukraine, more than 7 million Ukrainians have fled their country, although an estimated 2 million have returned home. They have the right to live and work in the EU for up to three years but face several difficulties finding employment.
Most are women with children so they need to find childcare and school places. They can't always speak the language of the country they arrive in and their qualifications may not be not recognised. They may also be suffering from severe trauma.
How is the EU helping Ukrainian refugees find work?
The EU is helping people arriving from Ukraine to acquire the necessary skills to enter the EU job market, by offering language courses and training. It has published Ukrainian-language guidelines for new arrivals on how to access the job market.
The European Commission is providing countries with guidance on how to help EU employers understand and recognise Ukrainian skills and qualifications 
It has translated Europass - where users create a CV for use across Europe - into Ukrainian.
The Commission is also encouraging all member states to use the EU Skills Profile Tool,  which has now been translated into Ukrainian. The tool helps map the skills, qualifications and work experience of refugees, migrants and citizens of non-EU countries who are staying in the EU. It then gives personalised advice on next steps, such as how to get their diplomas recognised and where to go for further training and job support. It will soon become part of the Europass platform.
An 'EU Talent Pool' to match Ukrainian refugee skills with job vacancies is also being launched.
What is the role of the EU's Public Employment Service network?
In a historic move, Ukrainians have been given the right to live and work in the EU for up to three years under the Temporary Protection Directive.
Public Employment Services play a key role in matching the skills of newly arrived Ukrainians with the needs of the labour market. In some countries, PES are now present at refugee centres to offer help and expertise.
The EU's Public Employment Service Network (PES) includes all 27 EU countries, Norway, Iceland and Lichtenstein and the European Commission and enables the Public Employment Services in each country to share best practice and exchange ideas and experiences.
The European PES Network has publicly expressed its solidarity with Ukrainians and its commitment to supporting those fleeing the war. Member states have been sharing their experiences of previous refugee crises with each other.