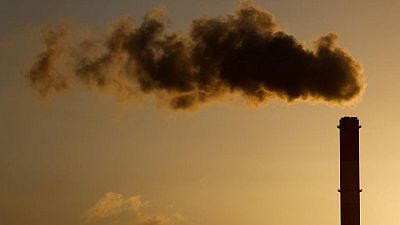 -
By Tassilo Hummel and Dominique Vidalon
PARIS -French power utility EDF on Monday again warned on its 2022 profit outlook, saying it could miss its financial targets because it was required to sell power at below-market prices and due to lower nuclear output.
State-controlled EDF, whose shares fell as much as 3%, now sees the impact from French energy price curbs on its 2022 earnings before interest, taxes, depreciation and amortization (EBITDA) at around 10.2 billion euros ($11.2 billion), compared with more than 8 billion in a previous estimate.
The government, which owns over 80% of EDF, earlier this year increased the amount of electricity EDF was forced to sell to rivals at below-market prices, with energy costs a main issue for voters before presidential elections in April.
EDF said on Monday a government decree, dated March 11, confirmed the utility would now have to sell 120 terawatt hours (TWh) to rivals, adding 20 TWh to a previous total.
EDF also reassessed the impact of lower nuclear output, saying the EBITDA hit would now be at about 16 billion euros based on 2022 forward prices on March 11.
By 1156 GMT, EDF shares were off their early lows to trade down 2.1%, losing more than 15% so far this year.
"EDF is indeed short volumes at the worst time in history as a tight gas market has pushed power prices to extraordinary levels, which have been compounded by fears on the Russia/Ukraine crisis," JP Morgan analysts wrote in a note.
EDF maintained its 2023 target for the ratio between net debt and EBITDA of around 3, but said this could be difficult to meet, particularly because of the impact of the Ukraine war.
It said "the group's capability to achieve these objectives" would be affected by the range of risks and the work to deal with corrosion on its French nuclear fleet.
"Moreover, in the current situation, the impacts of the Ukrainian conflict and associated geopolitical tensions on all kinds of risks are difficult to quantify," EDF added.
The state said last month it would inject about 2.1 billion euros into EDF to ease the financial pain caused by offline nuclear reactors and the government price curbs on power sales.
The rights issue aimed to help EDF to fill gaps in its balance sheet this year and next, and maintain its debt rating, executives have said.
"We believe that more will be needed: additional capital will likely be needed, especially when considering the nuclear renaissance announced by the French government," JP Morgan analysts added.
($1 = 0.9132 euros)