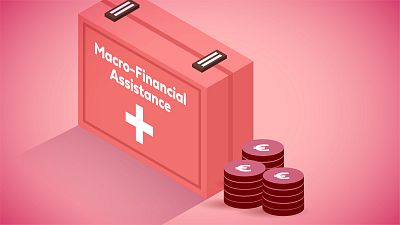 Macro-financial assistance (MFA) is the name given to emergency financial help to countries that are geographically, economically and politically close to the EU, to help stabilise their economies in times of crisis.
The wider goal is to help ensure stability and prosperity beyond the EU.
How does macro-financial assistance work?
Macro-financial assistance comes mainly in form of loans with highly favourable terms and low interest rates.
The loans are released in instalments. To get the money, countries must have signed up to a financing programme with the IMF, meet conditions for respecting human rights and anti-corruption, and implement democratic, economic and governance reforms.
To fund the loans, the Commission borrows on capital markets and then on-lends to the beneficiary country.
Which countries have benefitted?
The most recent MFA is 1.2 billion euros to Ukraine in solidarity with the Ukrainian people.
During the COVID-19 pandemic, the European Commission proposed a 3 billion euros package to help 10 partner countries limit the economic fallout.
Over the last 30 years, there have been 77 MFA operations in total worth 16 billion euros helping 27 countries.
The 27 counties include those that have since become members of the EU: Bulgaria, Estonia, Hungary, Latvia, Lithuania, Romania, Slovakia and the Czech & Slovak Federal Republic. The first MFA was to Hungary in 1990/1991.
They also include countries that are candidates and potential candidates to become part of the EU: North Macedonia, Albania, Bosnia & Herzegovina, Kosovo, Montenegro and Serbia.
As well as countries directly within the EU's neighbourhood: Armenia, Belarus, Georgia and Moldova, as well as Algeria, Israel, Jordan, Lebanon and Tunisia.