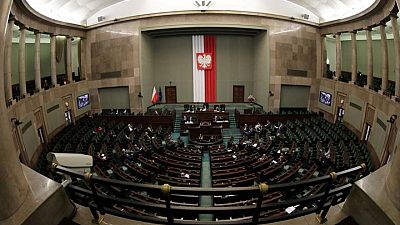 -
WARSAW – Poland's parliament moved closer on Wednesday to appointing candidates to the central bank's Monetary Policy Council to replace several rate setters whose terms expire early this year.
Ruling Law and Justice (PiS) party lawmaker Wieslaw Janczyk and economics professor Elzbieta Ostrowska are candidates to be members of the MPC after being proposed by the lower house of parliament, documents showed on Wednesday.
Janczyk currently heads the parliamentary committee on public finances.
The upper house of parliament, the Senate, is due to vote on Wednesday on the appointment of two other candidates, university professor Przemyslaw Litwiniuk and former deputy finance minister Ludwik Kotecki, who were recommended by the Senate's Budget and Finance Committee.
The vote, which was due to be postponed to Feb. 2-3 for administrative reasons, was unexpectedly brought forward and is now expected late on Wednesday.